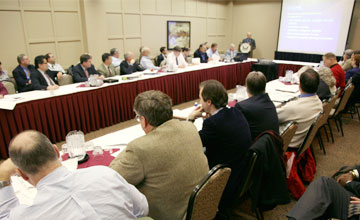 Public Meeting Schedule: Meeting Details
[
New Search
]
---
Purpose

The U.S. Nuclear Regulatory Commission (NRC) will hold an open forum to discuss the NRC's assessment of safety performance at the Catawba Nuclear Station Unit 1 & Unit 2; McGuire Nuclear Station Unit 1 & Unit 2; Oconee Nuclear Station Unit 1, Unit 2, and Unit 3 for 2020.

Meeting Feedback

Meeting Dates and Times

04/01/21
5:00PM - 6:00PM



Webinar

Webinar Link:https://teams.microsoft.com/l/meetup-join/19%3ameeting_YzA1MmE2MDQtNGJkMi00NjBlLTlkNmQtZjcxNDY3YWFmZDE3%40thread.v2/0?context=%7b%22Tid%22%3a%22e8d01475-c3b5-436a-a065-5def4c64f52e%22%2c%22Oid%22%3a%22c7804691-0252-46d5-aa05-116bda1cdbf6%22%7d
Webinar Meeting Number: 301-576-2978
Webinar Password:71391471#


Contact

Jared Nadel
(404) 997-4611



Participation Level

Information with Q&A

NRC Participants

Jared Nadel, Acting Branch Chief, Region II
Joe Austin, Senior Resident Inspector, Catawba, Region II
Christian Scott, Resident Inspector, Catawba, Region II
Andy Hutto, Senior Resident Inspector, McGuire, Region II
Ronald Cureton, Resident Inspector, McGuire, Region II
Adam Ruh, Acting Senior Resident Inspector, Oconee, Region II


External Participants

Duke Energy


Docket Numbers - Facility Names

05000269 - Oconee 1
05000270 - Oconee 2
05000287 - Oconee 3
05000369 - McGuire 1
05000370 - McGuire 2
05000413 - Catawba 1
05000414 - Catawba 2


Related Documents

ML21089A173 - Catawba McGuire Oconee 2020 EOC Slides FINAL.pptx

ML21090A151 - 04/01/2021 Catawba, McGuire, and Oconee Nuclear Stations Annual Assessment Meeting



Teleconference

Bridge Number: (301) 576-2978
Passcode: 71391471#

Comments

The annual assessment letters are accessible from the publicly available records (PARS) component of the NRC's document system (ADAMS) (Accession No. ML21061A222, ML21061A227, ML21061A238). A link to the meeting presentation will be available in ADAMS prior to the meeting.