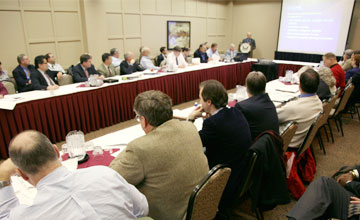 Public Meeting Schedule: Meeting Details
[
New Search
]
---
Purpose

To present the results of the U.S. Nuclear Regulatory Commission (NRC) draft Environmental Impact Statement (EIS) for proposed disposal of mine waste from at the United Nuclear Corporation Mill Site in McKinley County, New Mexico and receive the public's comments on the draft report. The NRC invites members of the public to attend the public meeting webinar and to present oral comments on the draft EIS. A teleconference number will also be available to provide oral comments.

Meeting Feedback

Meeting Dates and Times

12/02/20
4:00PM - 7:00PM

12/02/20
4:00PM - 7:00PM



Webinar

Webinar Link:https://usnrc.webex.com/
Webinar Meeting Number:199 946 2983
Webinar Password:UNCDEIS


Contact

Ashley Waldron
(301) 415-7317

Christine Pineda
(301) 415-6789



Participation Level

Category 3

NRC Participants

External Participants

Docket Numbers - Facility Names

04008907 - UNC MINING & MILLING


Related Documents

ML20318A044 - 12/02/2020 U.S. Nuclear Regulatory Commission to Conduct Public Webinar for the Draft Environmental Impact Statement for the Disposal of Mine Waste at the United Nuclear Corporation Mill Site

ML20330A327 - Slides for NRC Public Meeting on Draft EIS for UNC Church Rock Project



Teleconference

Bridge Number: (888) 454-7496
Passcode: 7838183

Comments

This meeting will be held from 4:00pm to 7:00pm Eastern Standard Time (EST). A notice published in the Federal Register on November 13, 2020 (85 FR 72706); https://www.federalregister.gov/), announced the availability of the NRC's draft EIS and provided instructions for submitting written comments. The comment period will close on December 28, 2020. The draft EIS can be found on the NRC public webpage for the UNC project at https://www.nrc.gov/info-finder/decommissioning/uranium/united-nuclear-corporation-unc-.html. If you do not have internet access, contact the NRC Public Document Room at 800-397-4209 for assistance.