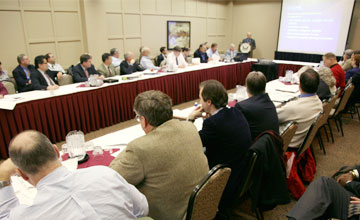 Public Meeting Schedule: Meeting Details
[
New Search
]
---
Purpose

Discuss the status of initiatives involving the fuel cycle industry. Topics for discussion are provided in the attachment to this announcement.

Meeting Feedback

Meeting Dates and Times

10/29/20
10:00AM - 1:30PM

10/28/20
12:00PM - 5:30PM



Webinar

Contact

Osiris Siurano-Perez
(301) 415-7827



Participation Level

Category 2

NRC Participants

Office of Nuclear Material Safety and Safeguards
Region II


External Participants

Fuel Cycle Industry Representatives
Nuclear Energy Institute (NEI)
Public


Docket Numbers - Facility Names

Related Documents

ML20293A421 - Integrated Schedule of Regulatory Activities - October 2020

ML20293A422 - Supplement to Fuel Cycle Program Integrated Schedule October 2020

ML20296A555 - October 28-29 CER Public Meeting Slides - Final

ML20296A651 - 10/28/2020 Meeting with the Nuclear Energy Institute, the Nuclear Fuel Industry, and Stakeholders to Discuss Fuel Cycle Regulatory Activities and Cumulative Effects of Regulation



Teleconference

Bridge Number: +1(888) 946-7489
Passcode: 3252170

Comments

Webinar links to be used for visual presentations (no audio). Use bridge line and passcode for audio conference. Use the same phone bridge line/passcode for both days. Webinar link for the October 28, 2020, meeting: https://usnrc.webex.com/usnrc/onstage/g.php?MTID=ecf43f83f60c5b96ca35ba2b0e7dcda79 Webinar link for the October 29, 2020, meeting: https://usnrc.webex.com/usnrc/onstage/g.php?MTID=e18a81f0e8a8d38d94573f3309552709f Please contact the meeting's project manager via e-mail at Osiris.Siurano-Perez@nc.gov if you experience a problem joining the event.