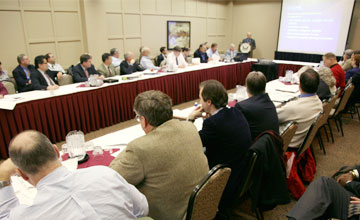 Public Meeting Schedule: Meeting Details
[
New Search
]
---
Purpose

The purpose of this meeting is to discuss planned revisions to RG 1.200.

Meeting Feedback

Meeting Dates and Times

10/21/20
1:00PM - 2:00PM



Meeting Location

Teleconference


Contact

Ed Miller
(301) 415-2481



Participation Level

Category 2

NRC Participants

Ed Miller, Office of Nuclear Reactor Regulation
Sunil Weerakkody, Office of Nuclear Reactor Regulation
Anders Gilbertson, Office of Nuclear Regulatory Research


External Participants

Roy Linthicum, Pressurized Water Reactor Owners Group
Victoria Anderson, Nuclear Energy Institute (NEI)


Docket Numbers - Facility Names

Related Documents

ML20293A488 - Regulatory Guide 1.200 Rev 3 - ACRS FC Briefing-draft-final-no-notes

ML20281A556 - 10/21/2020 Public Meeting to Discuss Revision to Regulatory Guide (RG) 1.200, "An Approach for Determining the Technical Adequacy of Probabilistic Risk Assessment Results for Risk-Informed Activities."



Teleconference

Interested members of the public can participate in this meeting via a toll-free teleconference.
For details, please call the NRC meeting contact.