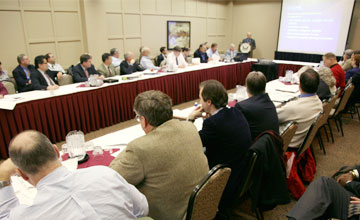 Public Meeting Schedule: Meeting Details
[
New Search
]
---
Purpose

The U.S. Nuclear Regulatory Commission will conduct a scoping process to gather information necessary to prepare an environmental impact statement to evaluate the environmental impacts for the subsequent license renewal of the operating licenses for North Anna Power Station, Units 1 and 2. The NRC is seeking public input on this action. The application is available on the NRC's Website at: https://www.nrc.gov/reactors/operating/licensing/renewal/applications/north-anna-1-2-subsequent.html and in the NRC's publicly available Agencywide Document Access and Management System (ADAMS). The ADAMS Accession Number is ML20246G697.

Meeting Feedback

Meeting Dates and Times

11/04/20
1:00PM - 3:00PM



Contact

Tam Tran
(301) 415-3617

Robert Elliott
(301) 415-8585



Participation Level

Category 3

NRC Participants

External Participants

Docket Numbers - Facility Names

05000338 - North Anna 1
05000339 - North Anna 2


Related Documents

ML20296A438 - 11/04/2020 Environmental Scoping Meeting Related to the North Anna Power Station, Units 1 and 2, Subsequent License Renewal Application



Comments

You may present comments at this meeting by emailing tam.tran@nrc.gov by 11/2/2020 or by registering at the meeting no later than 15 min. prior to the start of the session. Individual comments are limited by the available time. A court reporter will transcribe this meeting. Contact Mr. Tran no later than 11/2/2020 if special equipment or accommodations are needed to attend or provide comments. Attend this meeting or register in advance via WebEx by: • Navigate to https://usnrc.webex.com/ with a browser. • In the Join a Meeting field, enter the Event Number 199 753 7173. Click Join. Enter the required fields designated with (*) to Register. Attendees are encouraged to register early. • All audio will be through the bridgeline: 800-369-2157 and passcode: 5257816 then #.