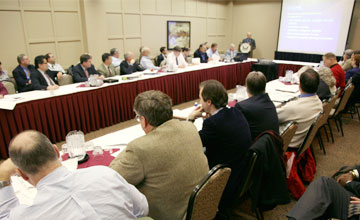 Public Meeting Schedule: Meeting Details
[
New Search
]
---
Purpose

The purpose of this meeting is for the NRC staff and industry to discuss steam generator issues.

Meeting Feedback

Meeting Dates and Times

* Date/Time Change *

10/28/20
1:00PM - 5:00PM



Webinar

Webinar Link:https://usnrc.webex.com/usnrc/onstage/g.php?MTID=eadbceb76266d0653d3c32220d1a2312f
Webinar Meeting Number:199 487 8652
Webinar Password:75G3Psy6KUB


Contact

Leslie Terry
(301) 415-1167

Paul Klein
(301) 415-4030

Helen Cothron




Participation Level

Category 2

NRC Participants

L. Terry, et al., Office of Nuclear Reactor Regulation


External Participants

H. Cothron, et al., Electric Power Research Institute (EPRI)


Docket Numbers - Facility Names

Related Documents

ML20290A395 - 10/28/2020 NRC Meeting with Steam Generator Task Force



Comments

Members of the public can participate via Webinar. Participants may need to copy and paste the Webinar URL into their web browser. Please contact Leslie Terry at Leslie.Terry@nrc.gov if you would like to participate via teleconference and Leslie will provide you with the teleconference information to join the meeting. Portions of this meeting during which proprietary information is discussed will be closed to the public. The agenda may be changed due to information and/or personnel availability.