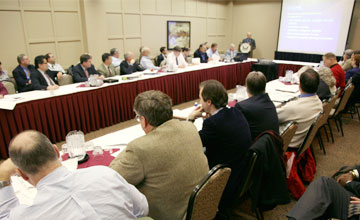 Public Meeting Schedule: Meeting Details
[
New Search
]
---
Purpose

U.S. Nuclear Regulatory Commission (NRC) to Conduct Public Online Webinar for an Open Pre-decisional Enforcement Conference (PEC) will be held to discuss apparent violations involving the design of spent fuel storage casks as described in NRC Inspection Report No. 07201015/2020-201 (NRC's Agencywide Documents Access and Management System [ADAMS] Accession No. ML20225A032).

Meeting Feedback

Meeting Dates and Times

10/20/20
1:00PM - 4:00PM



Webinar

Webinar Link:https://usnrc.webex.com/usnrc/onstage/g.php?MTID=e7ca619b4800e9503c3626d9324de35e9
Webinar Meeting Number:1997779783
Webinar Password:PEC1020


Contact

Tomeka Terry
(301) 415-1488



Participation Level

Category 1

NRC Participants

Chris Regan, NRC Staff


External Participants

NAC International


Docket Numbers - Facility Names

Related Documents

ML20225A032 - NRC Choice Letter to NAC International with Attached Safety Inspection Report, IR 0721015/2020201, February 24-27, 2020 and July 22, 2020, Inspection of NAC International in Norcross, Georgia

ML20293A403 - NRC Pre-Decisional Enforcement Conference with NAC International Presentation Slides

ML20293A289 - NAC International 10 CFR Part 72 Inspection Pre-Decisional Enforcement Conference Presentation Slides

ML20294A221 - 10/20/2020 Notice of Public Pre-decisional Enforcement Conference with NAC International



Teleconference

Bridge Number: (800) 857-4625
Passcode: 9838597

Comments

The NAC PEC meeting will be conducted using Cisco WebEx. To participate in the meeting, please pre-register using the webinar link provided above. The meeting will start promptly at 1:00 pm starting with opening remarks and will follow through the agenda topics below. The times in the agenda are approximates and afford flexibility to cover each topic with either more or less time than specified. Therefore, this meeting may conclude prior to the anticipated end time of 4:00 pm.