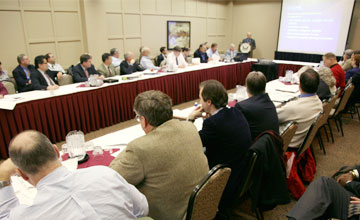 Public Meeting Schedule: Meeting Details
[
New Search
]
---
Purpose

To present the results of the U.S. Nuclear Regulatory Commission (NRC) draft environmental impact statement (EIS) for Interim Storage Partners' proposed consolidated interim storage facility (CISF) for storing spent nuclear fuel and receive the public's comments on the draft report. The NRC invites members of the public to attend the public meeting webinar and to present oral comments on the draft EIS. The public meeting webinar will commence at 2:00pm Eastern Time / 1:00pm Central Time / 12:00 noon Mountain Time on October 6, 2020. A teleconference number will also be available to provide oral comments.

Meeting Feedback

Meeting Dates and Times

10/06/20
2:00PM - 5:00PM



Webinar

Webinar Link:https://usnrc.webex.com/
Webinar Meeting Number:199 740 4202
Webinar Password:ISPDEIS


Contact

James Park
(301) 415-6954

Antoinette Walker-Smith
(202) 415-6957



Participation Level

Category 3

NRC Participants

External Participants

Docket Numbers - Facility Names

07201050 - Waste Control Specialists LLC


Related Documents

ML20279A355 - ISP DEIS Meeting Presentation October 6 Webinar

ML20279A356 - ISP DEIS Meeting Presentation October 6 Webinar - Spanish

ML20279A700 - 10/06/2020 U.S. Nuclear Regulatory Commission to Conduct Public Online Webinar for the Draft Environmental Impact Statement for the Proposed Interim Storage Partners Consolidated Interim Storage Facility



Teleconference

Bridge Number: (888) 989-9268
Passcode: 5300047

Comments

A notice published in the Federal Register (FR) on May 8, 2020 (85 FR 27447); https://www.federalregister.gov/), announced the availability of the NRC's draft EIS and provided instructions for submitting written comments. The comment period has been extended and is scheduled to close on November 3, 2020. The draft EIS can be found on the NRC public webpage for the Interim Storage Facility Consolidated Interim Storage Facility license application at https://www.nrc.gov/waste/spent-fuel-storage/cis/waste-control-specialist.html. If you do not have internet access, contact the NRC Public Document Room at 800-397-4209 for assistance.