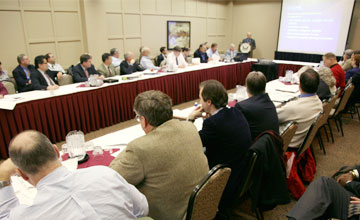 Public Meeting Schedule: Meeting Details
[
New Search
]
---
Purpose

The purpose of this meeting is for Northern States Power Company (NSPM) to provide information on a planned exemption request for PINGP, Units 1 and 2, related to the biennial emergency preparedness exercise.

Meeting Feedback

Meeting Dates and Times

09/23/20
10:00AM - 11:00AM



Meeting Location

Teleconference


Contact

Robert Kuntz
301-415-3733



Participation Level

Category 1

NRC Participants

Robert Kuntz, Office of Nuclear Reactor Regulation
Office of Nuclear Security and Incident Response


External Participants

Ronald Jacobson, Northern States Power Company


Docket Numbers - Facility Names

05000282 - Prairie Island 1
05000306 - Prairie Island 2


Related Documents

ML20266F105 - Prairie Island (PINGP) COVID-19 Exemption Request for the 2020 Biennial Emergency Preparedness Exercise

ML20255A021 - 09/23/2020 Teleconference to Discuss Planned Exemption Request for Prairie Island Nuclear Generating Plant (PINGP), Units 1 and 2



Comments

The public can participate in person or via toll-free audio teleconference. Please contact the NRC meeting contact listed above by September 22, 2020, for teleconference details.