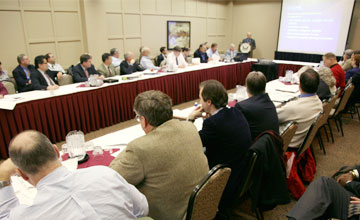 Public Meeting Schedule: Meeting Details
[
New Search
]
---
Purpose

The purpose of this teleconference public meeting is to discuss NRC Staff's request for additional information (RAIs) regarding the ongoing review of NuScale's Topical Report TR-0420-69456, Revision 0, "NuScale Control Room Staffing Plan" (Agencywide Documents Access and Management System (ADAMS) Accession No. ML20163A556). A portion of the meeting may be closed to the public for proprietary discussion.

Meeting Feedback

Meeting Dates and Times

* Date/Time Change *

12/01/20
2:00PM - 3:30PM



Meeting Location

Teleconference


Contact

GETACHEW TESFAYE
(301) 415-8013



Participation Level

Category 1

NRC Participants

External Participants

Docket Numbers - Facility Names

Related Documents

ML20331A006 - 12/01/2020 NuScale Power Standard Design Approval Pre-Application Teleconference



Teleconference

Bridge Number: (301) 576-2978
Passcode: 791628700#

Comments

The following RAI 9789 questions will be discussed during the meeting: NTR-02, NTR-04, NTR-08, NTR-09, NTR-10, NTR-13, NTR-14, and NTR-15 (ADAMS Accession No. ML20296A161).