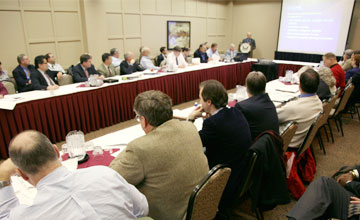 Public Meeting Schedule: Meeting Details
[
New Search
]
---
Purpose

The NRC will give an overview of the decommissioning process and discuss the Duane Arnold project.

Meeting Feedback

Meeting Dates and Times

09/24/20
1:00PM - 3:00PM



Webinar

Webinar Link:https://usnrc.webex.com/usnrc/onstage/g.php?MTID=ec4e8efd2e36474172c30b30ec752f7e4
Webinar Meeting Number:800-475-0233
Webinar Password:8209218


Contact

Ted Carter
301-415-5543

Marlayna Doell
301-415-3178



Participation Level

Category 3

NRC Participants

External Participants

Docket Numbers - Facility Names

05000331 - Duane Arnold


Related Documents

ML20245E447 - 09/24/2020 Duane Arnold Decommissioning Webinar

ML20261H389 - Slides for Decommissioning-Overview Webinar regarding Duane Arnold Energy Center presented on September 24, 2020.



Teleconference

Bridge Number: 8004750233
Passcode: 8209218

Comments

NOTE ON WEBEX: Please consider registering for the WebEx event using the link above prior to the meeting to save time on September 24th. Only the slides and other visuals will be available via WebEx; all audio must be accessed via phone using the call in information provided in this notice.