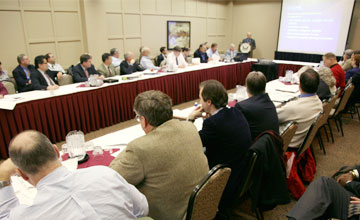 Public Meeting Schedule: Meeting Details
[
New Search
]
---
Purpose

The NRC staff will host a webinar to provide an opportunity for external stakeholders and the NRC staff to exchange information on the NRC's development of a regulatory framework for advanced nuclear reactors. Additional information is available in the NRC White Paper titled "Questions Supporting ACRS and Public Interactions on Developing a Risk-Informed, Technology-Inclusive Regulatory Framework for Advanced Reactors" (Part 53 White Paper ADAMS Accession No. ML20195A270). This meeting provides an opportunity for the NRC staff to hear insights and answer questions from the public about the Part 53 rulemaking effort. Attendees are strongly encouraged to read the Part 53 White Paper and the Part 53 rulemaking plan contained in SECY paper SECY-20-0032, "Rulemaking Plan on 'Risk Informed, Technology-Inclusive Regulatory Framework For Advanced Reactors'," dated April 13, 2020 (ADAMS Accession No. ML19340A056), on www.regulations.gov using Docket ID "NRC-2019-0062" or in ADAMS prior to the meeting.

Meeting Feedback

Meeting Dates and Times

* Date/Time Change *

09/22/20
12:00PM - 4:30PM



Webinar

Webinar Link:https://usnrc.webex.com/usnrc/onstage/g.php?MTID=ebcfc83fd1f62d6aff3caa4de1df5e2f5
Webinar Meeting Number:N/A
Webinar Password:N/A


Contact

Robert Beall
301-415-3847



Participation Level

Category 3

NRC Participants

NRC-Wide


External Participants

Public


Docket Numbers - Facility Names

Related Documents

ML20260H003 - 09/22/2020 CATEGORY 3 PUBLIC MEETING TO DISCUSS THE PART 53 RISK-INFORMED, TECHNOLOGY-INCLUSIVE REGULATORY FRAMEWORK FOR ADVANCED REACTORS RULEMAKING WHITE PAPER

ML20254A014 - 9/22/2020 Category 3 Public Meeting NRC Presentation RE: "Licensing and Regulation of Advanced Nuclear Reactors"



Teleconference

Bridge Number: 8889894388
Passcode: 4288754

Comments

** YOU MUST SIGN INTO THE BRIDGE NUMBER TO HEAR THE CONFERENCE. Those organizations or members of the public interested in making a presentation or wish to participate in the discussion on one or more of the agenda topics should email the meeting contact, Mr. Robert Beall, as soon as possible, but no later than September 16, 2020, and any presentation slides shall be received by the meeting contact no later than September 18, 2020. No regulatory decisions will be made during the meeting.