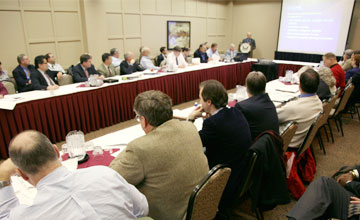 Public Meeting Schedule: Meeting Details
[
New Search
]
---
Purpose

The purpose of this meeting is to discuss with the nuclear industry and other stakeholders the initiatives within the industry and NRC related to the development and licensing of non-light water reactors (non-LWRs).

Meeting Feedback

Meeting Dates and Times

* Date/Time Change *

08/20/20
10:00AM - 3:00PM



Meeting Location

Teleconference


Webinar

Webinar Link:https://skype.nrc.gov/meet/jordan.hoellman2/FJJ92YZN
Webinar Meeting Number:N/A
Webinar Password:N/A


Contact

Jordan Hoellman
(301) 415-5481



Participation Level

Category 2

NRC Participants

NRC Staff


External Participants

Industry Representatives


Docket Numbers - Facility Names

Related Documents

ML20232D114 - August 20 2020 Advanced Reactor Stakeholder Public Meeting - Combined Presentation

ML20232D199 - 08/20/2020 Periodic Advanced Reactor Stakeholder Meeting

ML20195A270 - July 20, 2020 - Draft, Document is Being Released to Support ACRS Public Meeting - NRC Staff White Paper, Questions Supporting ACRS and Public Interactions on Developing a Risk-Informed, Technology Inclusive Regulatory Framework for Advanced



Teleconference

Bridge Number: (888) 810-4937
Passcode: 8854397

Comments

Participants must use the bridge to listen to the presentation. The Skype link is to only be used for accessing the slides (i.e., audio will not be provided via Skype). In addition, the meeting notice will be updated the day of the meeting to provide the ADAMS accession number for the slides in the event there is an issue with the Skype presentation. Stakeholders that wish to make opening remarks should inform the meeting contact no later than close of business on August 18, 2020.