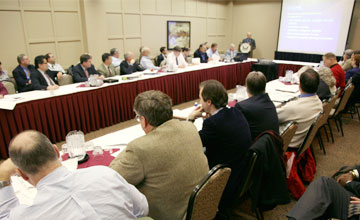 Public Meeting Schedule: Meeting Details
[
New Search
]
---
Purpose

The purpose of this teleconference is for Exelon Generation Company, LLC (Exelon) to discuss its planned submittal of a license amendment request to adopt Technical Specifications Task Force Traveler, TSTF-334, "Relaxed Surveillance Frequency for Excess Flow Check Valve Testing," and an alternative relief request to revise surveillance requirements for excess flow check valve testing for Nine Mile Point Nuclear Station, Unit 1.

Meeting Feedback

Meeting Dates and Times

08/06/20
10:00AM - 11:30AM



Meeting Location

Teleconference


Contact

Michael Marshall
301-415-2871



Participation Level

Category 1

NRC Participants

Michael L. Marshall, Office of Nuclear Reactor Regulation


External Participants

Exelon Generation Co LLC


Docket Numbers - Facility Names

05000220 - Nine Mile Point 1


Related Documents

ML20205N257 - 08/06/2020 Public Teleconference with Exelon Generation Company, LLC to Discuss the Planned Submittal of a License Amendment Request and Alternative Relief Request for Nine Mile Point Nuclear Station, Unit 1, on Excess Check Valve Testing



Comments

The public can participate in this meeting by telephone conference. Please contact the meeting contact listed above at least 2 hours prior to the start of the meeting for the toll-free telephone conference number and passcode.