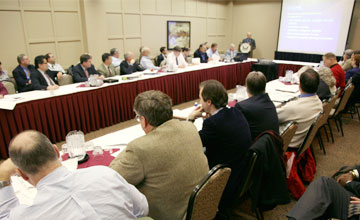 Public Meeting Schedule: Meeting Details
[
New Search
]
---
Purpose

The purpose of this meeting is to receive public comments on the Duane Arnold Energy Center PSDAR, including the Decommissioning Cost Estimate, dated April 2, 2020 (ADAMS Accession No. ML20094F603). A notice of receipt; availability; the purpose of the public meeting; and request for comments was published in the Federal Register on June 19, 2020 (85 FR 37116).

Meeting Feedback

Meeting Dates and Times

08/18/20
5:30PM - 7:30PM



Webinar

Webinar Link:https://usnrc.webex.com/usnrc/onstage/g.php?MTID=e01c75ff97e04f8100202b05eecb6014c
Webinar Meeting Number:N/A
Webinar Password:N/A


Contact

Scott P. Wall
301-415-2855



Participation Level

Category 3

NRC Participants

Bruce A. Watson, CHP, Office of Nuclear Material Safety and Safeguards
Ted Carter, Office of Nuclear Material Safety and Safeguards
Scott P. Wall, Office of Nuclear Reactor Regulation


External Participants

J. Michael Davis, NextEra Energy Duane Arnold, LLC


Docket Numbers - Facility Names

05000331 - Duane Arnold


Related Documents

ML20205L615 - 08/18/2020 Duane Arnold Energy Center Post-Shutdown Decommissioning Activities Report (PSDAR) Public Meeting



Teleconference

Bridge Number: 18004750233
Passcode: 8209218#

Comments

On January 31, 2020, the U.S. Department of Health and Human Services (HHS) declared a Coronavirus Disease 2019 (COVID-19) public health emergency (PHE) for the United States. Subsequently, the Centers for Disease Control and Prevention (CDC) issued recommendations (e.g., social distancing, limiting assemblies, etc.) to limit the spread of COVID-19. On April 21, 2020, HHS renewed the COVID-19 PHE effective April 26, 2020. Consistent with CDC guidelines, the NRC will hold the required PSDAR meeting via webinar.