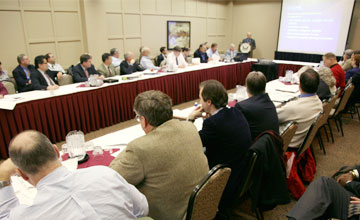 Public Meeting Schedule: Meeting Details
[
New Search
]
---
Purpose

The purpose of this meeting between the U.S. Nuclear Regulatory Commission (NRC) and Entergy Operations, Inc. (Entergy, the licensee), is to discuss proposed license amendments to adopt Title 10 of the Code of Federal Regulations, Part 50, Section 50.69 (10 CFR 50.69), "Risk-informed categorization and treatment of structures, systems and components for nuclear power reactors," for Arkansas Nuclear One, Units 1 and 2.

Meeting Feedback

Meeting Dates and Times

08/04/20
2:00PM - 4:00PM



Meeting Location

Teleconference


Contact

Tom Wengert
301-415-4037

Audrey Klett
301-415-0489



Participation Level

Category 1

NRC Participants

Office of Nuclear Reactor Regulation


External Participants

Entergy Operations Inc


Docket Numbers - Facility Names

05000313 - Arkansas Nuclear 1
05000368 - Arkansas Nuclear 2


Related Documents

ML20199M207 - 08/04/2020 Presubmittal Meeting with Entergy Operations, Inc. for Arkansas Nuclear One, Units 1 and 2 (EPID L-2020-LRM-0067)



Comments

Interested members of the public should call or email the meeting contact no later than 4:00 p.m. Eastern Daylight Time (EDT), August 3, 2020, to obtain the teleconference information. The meeting will start at 2:00 p.m. EDT (1:00 p.m. Central Daylight Time, CDT). Meeting length is estimated and may conclude earlier than the scheduled time.