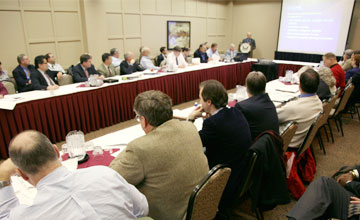 Public Meeting Schedule: Meeting Details
[
New Search
]
---
Purpose

To present the results of the U.S. Nuclear Regulatory Commission (NRC) draft environmental impact analysis for Holtec's proposed Hi-Store consolidated interim storage facility (CISF) for storing spent nuclear fuel and receive the public's comments on the draft report. The NRC invites members of the public to attend the public meeting webinar and to present oral comments on the draft EIS. The public meeting webinar will commence at 5:00pm Eastern Time or 3:00pm Mountain Time on July 9, 2020. A teleconference number will also be available to provide oral comments.

Meeting Feedback

Meeting Dates and Times

07/09/20
5:00PM - 9:00PM



Webinar

Webinar Link:https://usnrc.webex.com/
Webinar Meeting Number:199 943 8370
Webinar Password:HOLTEC


Contact

Jill Caverly
301-415-7674

Antoinette Walker-Smith
301-415-6957



Participation Level

Category 3

NRC Participants

External Participants

Docket Numbers - Facility Names

07201051 - HOLTEC INTERNATIONAL/EDDY-LEA ENERG


Related Documents

ML20188A273 - Holtec CISF Draft EIS July 9, 2020 Slides

ML20189A183 - Holtec CISF Draft EIS Meeting Presentation July 9, 2020 Spanish Language

ML20189A545 - 07/09/2020 U.S. Nuclear Regulatory Commission to Conduct Public Online Webinar for the Draft Environmental Impact Statement for the Proposed Holtec Hi-Store Consolidated Interim Storage Facility



Teleconference

Bridge Number: 8004750220
Passcode: 9575497

Comments

A notice published in the Federal Register (FR) on April 27, 2020 (85 FR 23382; https://www.federalregister.gov/), announced the availability of the NRC's draft EIS and provided instructions for submitting written comments. The draft EIS can be found on the NRC public webpage for the Holtec Consolidated Interim Storage Facility license application at https://www.nrc.gov/waste/spent-fuel-storage/cis/holtec-international.html. If you do not have internet access, contact the NRC Public Document Room at 800-397-4209 for assistance.