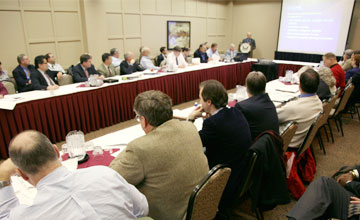 Public Meeting Schedule: Meeting Details
[
New Search
]
---
Purpose

Public teleconference meeting to discuss NuScale's plans to submit a topical report for a Verification and Validation (V&V) methodology for IEEE Std. 1012 V&V implementation that uses a software tool architecture to model requirements, simulate models, and test those models to perform complex verification and validation tasks. A portion of the meeting may be closed to the public for proprietary discussion.

Meeting Feedback

Meeting Dates and Times

* Date/Time Change *

07/15/20
1:00PM - 3:00PM



Meeting Location

Teleconference


Contact

CAROLYN LAURON
301-415-2736

GREGORY CRANSTON
301-415-0546



Participation Level

Category 1

NRC Participants

External Participants

Docket Numbers - Facility Names

05200048 - NUSCALE POWER REACTOR


Related Documents

ML20177A170 - 07/15/2020 Pre-Submittal Meeting on NuScale Topical Report on Automated Testing System



Teleconference

Interested members of the public can participate in this meeting via a toll-free teleconference.
For details, please call the NRC meeting contact.

Comments

If you would like to participate in the meeting, please email Carolyn.Lauron@nrc.gov for additional information. This notice will be updated with the presentation materials found in ADAMS before the meeting.