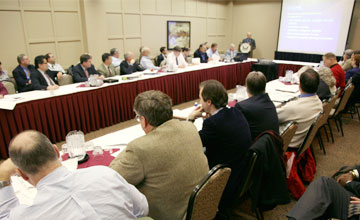 Public Meeting Schedule: Meeting Details
[
New Search
]
---
Purpose

To present the results of the U.S. Nuclear Regulatory Commission (NRC) draft environmental impact analysis for Holtec's proposed Hi-Store consolidated interim storage facility (CISF) for storing spent nuclear fuel, and receive the public's comments on the draft report. The NRC invites members of the public to attend the public meeting webinar and to present oral comments on the draft EIS. The public meeting webinar will commence at 5:00pm Eastern Time or 3:00pm Mountain Time on June 23, 2020. A teleconference number will also be available to provide oral comments.

Meeting Feedback

Meeting Dates and Times

06/23/20
5:00PM - 9:00PM



Webinar

Webinar Link:https://usnrc.webex.com/usnrc/onstage/g.php?MTID=e518b15b4271391e6b7c7232571f289d3
Webinar Meeting Number:199 800 0026
Webinar Password:HOLTEC


Contact

Jill Caverly
(301) 415-7674

Antoinette Walker-Smith
(301) 415-6957



Participation Level

Category 3

NRC Participants

Office of Nuclear Material Safety and Safeguards


External Participants

Docket Numbers - Facility Names

07201051 - HOLTEC INTERNATIONAL/EDDY-LEA ENERG


Related Documents

ML20175A106 - Draft Environmental Impact Statement for a Consolidated Interim Storage Facility (CISF) for Spent Nuclear Fuel in Lea County, New Mexico Public Comment Meeting Webinar June 23, 2020

ML20175A116 - de los Estados Unidos (NRC) Borrador de la Declaracion de Impacto Ambiental (EIS) para la Instalacion de Almacenaje de Combustible Nuclear Usado en el Condado de Lea en Nuevo Mejico Reunion Publica En Linea 23 de junio del 2020

ML20175A617 - 06/23/2020 U.S. Nuclear Regulatory Commission to Conduct Public Online Webinar for the Draft Environmental Impact Statement for the Proposed Holtec Hi-Store Consolidated Interim Storage Facility



Teleconference

Bridge Number: (888) 454-7496
Passcode: 5790355

Comments

Those wishing to present oral comments are asked to pre-register by June 22, 2020, by contacting Ms. Antoinette Walker-Smith via e-mail at: Antoinette.Walker-Smith@nrc.gov. A notice published in the Federal Register (FR) on April 27, 2020 (85 FR 23382; https://www.federalregister.gov/), announced the availability of the NRC's draft EIS and provided instructions for submitting written comments. The draft EIS can be found on the NRC public webpage for the Holtec Consolidated Interim Storage Facility license application at https://www.nrc.gov/waste/spent-fuel-storage/cis/holtec-international.html. If you do not have internet access, contact the NRC Public Document Room at 800-397-4209 for assistance.