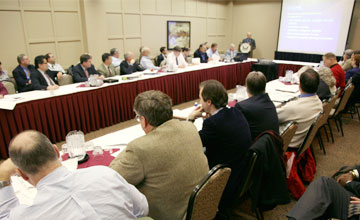 Public Meeting Schedule: Meeting Details
[
New Search
]
---
Purpose

At the meeting, the U.S. Nuclear Regulatory Commission (NRC) will receive comments from the public on the appropriate scope of issues to be considered in, and the content of the advanced nuclear reactor generic environmental statement. Specifically, the NRC will seek input on parameters which may be used to evaluate the environmental impacts of constructing and operating a small scale advanced reactor and also on issues that may be resolved generically or require a site specific evaluation.

Meeting Feedback

Meeting Dates and Times

05/28/20
1:00PM - 4:00PM



Webinar

Webinar Link:https://usnrc.webex.com
Webinar Meeting Number:905642855
Webinar Password:NA


Contact

Jack Cushing
301-415-1424

Laura Willingham
301-415-0857



Participation Level

Category 3

NRC Participants

Kenneth Erwin, Office of Nuclear Material Safety and Safeguards
Jack Cushing, Office of Nuclear Material Safety and Safeguards
Laura Willingham, Office of Nuclear Material Safety and Safeguards


External Participants

Public


Docket Numbers - Facility Names

Related Documents

ML20147A677 - 5/28/2020 Adv Rx GEIS Scoping Meeting Slides.

ML20148M245 - 05/28/2020 MEETING TO DISCUSS THE SCOPE OF THE GENERIC ENVIRONMENTAL IMPACT STATEMENT FOR ADVANCED NUCLEAR REACTORS



Teleconference

Bridge Number: 18886229844
Passcode: 5484985

Comments

Participants should register in advance at https://usnrc.webex.com and use the event number provided above. An email will be generated providing a link to the webinar. You may submit comments: 1. At this meeting. 2. Go to https://www.regulations.gov and search for Docket ID NRC-2020-0101. Address questions about docket IDs on regulations.gov to Jennifer Borges; telephone: 301-287-9127; e-mail: Jennifer.Borges@nrc.gov. 3. Mail comments to: Office of Administration, Mail Stop TWFN 7 A60M, U.S. Nuclear Regulatory Commission, Washington, DC 20555-0001 4. Email comments to AdvancedReactors-GEIS.resource@nrc.gov. Comments received before June 30, 2020 will be considered in development of the GEIS. Comments received after June 30, 2020, will be considered if time allows.