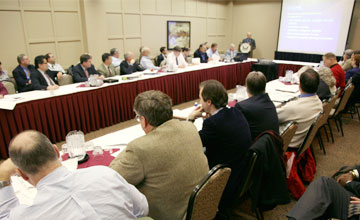 Public Meeting Schedule: Meeting Details
[
New Search
]
---
Purpose

The purpose of this seminar is to discuss how non-medical NRC radioactive material (10 CFR Parts 30 and 34) licensees can request temporary regulatory relief during the COVID-19 public health emergency through submission of certain exemption requests. The NRC staff would like to hear from licensees regarding the types of exemptions they may need during the ongoing public health emergency

Meeting Feedback

Meeting Dates and Times

04/23/20
1:00PM - 2:30PM



Webinar

Webinar Link:https://usnrc.webex.com/usnrc/onstage/g.php?MTID=e1bb2b4e1d00bd5f2f79f5935d1677bc8
Webinar Meeting Number:902 827 984
Webinar Password:Material


Contact

Lance Rakovan
(301) 415-2589

Shirly Xu
(301) 415-7640

Anothony McMutray
(301) 415-2746



Participation Level

Category 3

NRC Participants

Office of Nuclear Material Safety and Safeguards
Region I
Region III
Region IV
Office of Public Affairs
Office of Congressional Affairs


External Participants

Docket Numbers - Facility Names

Related Documents

ML20108E944 - Enclosure 3 - Table of evaluated regulatory/license condition exemptions for Part 34

ML20114E062 - 04/23/2020 Public Seminar to Discuss Temporary Regulatory Relief Pathways for Non-Medical NRC Radioactive Materials Licensees during the COVID-19 Public Health Emergency

ML20114E015 - Slides for April 23, 2020, Public Meeting to Discuss Potential Regulatory Relief for Part 30 & 34 Licensees

ML20094G166 - U.S. Nuclear Regulatory Commission Methods for Providing Regulatory Relief During the Coronavirus Disease 2019 Public Health Emergency

ML20108E943 - Enclosure 2 - Table of evaluated regulatory/license condition exemptions for Part 30



Teleconference

Bridge Number: (888) 965-9717
Passcode: 8276943

Comments

This seminar will feature both a moderated bridge line for audio (please see dial-in and passcode information under "Teleconference") and WebEx to present meeting slides. Participants can register for the WebEx portion of the meeting by following the WebEx direct link under "Webinar," or by going to usnrc.webex.com and entering in meeting ID number 902 827 984 under "Join a Meeting." You can pre-register for the WebEx or join right at the start of the meeting. A similar meeting covering medical licensees will be held on April 22, 2020. Details on that meeting can be found here: https://www.nrc.gov/pmns/mtg?do=details&Code=20200417.