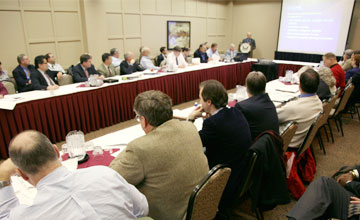 Public Meeting Schedule: Meeting Details
[
New Search
]
---
Purpose

Periodic meeting to discuss the results of the NRC's review of Framatome's performance over the past two years in conducting NRC licensed activities.

Meeting Feedback

Meeting Dates and Times

04/07/20
4:00PM - 5:30PM



Webinar

Webinar Link:https://skype.nrc.gov/meet/gregory.goff/91YWLI8T
Webinar Meeting Number:1-301-415-0333
Webinar Password:969349#


Contact

Richard Gibson, Jr.
404-997-4718

Gregory Goff
404-997-4744



Participation Level

Category 1

NRC Participants

Richard Gibson, Region II
Gregory Goff, Region II
Eric Michel, Region II


External Participants

Benjamin Reynolds, Framatome
Ernest Hockens, Framatome
Ronald Land, Framatome
Timothy Tate, Framatome


Docket Numbers - Facility Names

07001257 - AREVA NP, INC. (RICHLAND)


Related Documents

ML20090A002 - Instructions for Joining SKYPE Meeting-Framatome Inc.

ML20092D999 - 04/07/2020 Public Meeting Notice

ML20094F888 - Licensee Performance Review (LPR) Presentation Slides for Framatome Inc. Public Meeting-April 7 2020



Comments

This meeting is being held virtually due to the COVID-19 pandemic in order to maximize the health and safety of the public and comply with Executive domestic travel requirements. Please note all times listed are in Eastern Daylight Time.