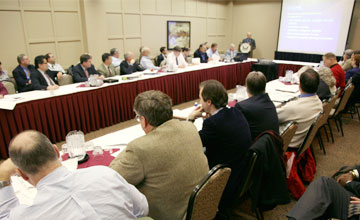 Public Meeting Schedule: Meeting Details
[
New Search
]
---
Purpose

Public teleconference meeting to discuss technical issues that need to be resolved associated with the NuScale Design Certification Application review in progress and to promote a common understanding of the technical issues associated with staff RAIs. A portion of the meeting may be closed to the public for proprietary discussion.

Meeting Feedback

Meeting Dates and Times

* Date/Time Change *

04/15/20
1:00PM - 4:30PM



Meeting Location

Teleconference


Contact

GREGORY CRANSTON
301-415-0546

Prosanta Chowdhury
301-415-1647



Participation Level

Category 1

NRC Participants

External Participants

Docket Numbers - Facility Names

05200048 - NUSCALE POWER REACTOR


Related Documents

ML20079H159 - 04/15/2020 NuScale Power Design Certification Application teleconference



Teleconference

Interested members of the public can participate in this meeting via a toll-free teleconference.
For details, please call the NRC meeting contact.

Comments

2:00 p.m. - 4:30 p.m. - NuScale to Present a Revision to the EPZ Sizing Methodology Topical Report (TR-0915-17772). References: • TR-0915-17772, Revision 1 (ML18071A354) • Public meeting with NuScale on August 6, 2019 (ML19233A165).