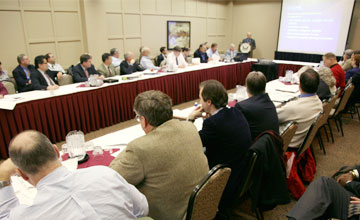 Public Meeting Schedule: Meeting Details
[
New Search
]
---
Purpose

Public teleconference meeting to discuss the technical merits of the NEDC-33910P and pre-application matters related to construction permitting of the GEH BWRX-300 power reactor design. A portion of the meeting may be closed to the public for discussion of proprietary information.

Meeting Feedback

Meeting Dates and Times

05/14/20
10:00AM - 12:00PM



Meeting Location

Teleconference


Contact

RANI FRANOVICH
301-415-7334



Participation Level

Category 1

NRC Participants

External Participants

Docket Numbers - Facility Names

99900003 - GE Hitachi Nuclear Energy


Related Documents

ML20076F054 - 05/14/2020 NRC staff questions on NEDC-33910P BWRX-300 Reactor Pressure Vessel Isolation and Overpressure Protection



Comments

If you are participating by phone please contact the Contact person listed below to get the number and password.