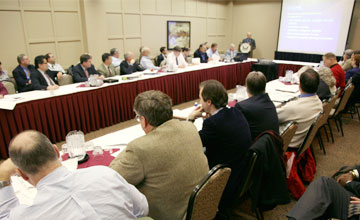 Public Meeting Schedule: Meeting Details
[
New Search
]
---
Purpose

Provide an overview of how the NRC oversees the decommissioning process.

Meeting Feedback

Meeting Dates and Times

04/21/20
1:00PM - 2:30PM



Webinar

Webinar Link:https://usnrc.webex.com/usnrc/onstage/g.php?MTID=e6c5b07f96112d721fe2c664b5bf6b20f
Webinar Meeting Number:1
Webinar Password:IP0421


Contact

Richard Chang
301-415-5888



Participation Level

Category 2

NRC Participants

External Participants

Docket Numbers - Facility Names

05000003 - Indian Point 1
05000247 - Indian Point 2
05000286 - Indian Point 3


Related Documents

ML20094J093 - 04/21/2020 NRC Webinar on Indian Point Nuclear Plant Decommissioning.



Teleconference

Bridge Number: 18883919420
Passcode: 3518357#

Comments

Slides will be made available prior to the meeting.