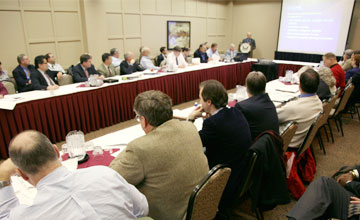 Public Meeting Schedule: Meeting Details
[
New Search
]
---
Purpose

The purpose of this meeting is to discuss with the nuclear industry and other stakeholders the initiatives within the industry and NRC related to the development and licensing of non-light water reactors.

Meeting Feedback

Meeting Dates and Times

04/02/20
9:00AM - 4:00PM



Meeting Location

Teleconference


Webinar

Webinar Link:https://skype.nrc.gov/meet/jordan.hoellman2/FJJ92YZN
Webinar Meeting Number:N/A
Webinar Password:N/A


Contact

Jordan Hoellman
301-415-5481



Participation Level

Category 2

NRC Participants

NRC Staff


External Participants

NEI representatives


Docket Numbers - Facility Names

Related Documents

ML20092L465 - April 2, 2020 Advanced Reactor Stakeholder Meeting Presentation Slides

ML20092N362 - 04/02/2020 Periodic Advanced Reactor Stakeholder Meeting



Teleconference

Bridge Number: 8008579764
Passcode: 2899200

Comments

Participants must use the bridge to listen to the presentation. The Skype link is to only be used for accessing the slides (i.e., audio will not be provided via Skype). In addition, the meeting notice will be updated the day of the meeting to provide the ADAMS accession number for the slides in the event there is an issue with the Skype presentation.