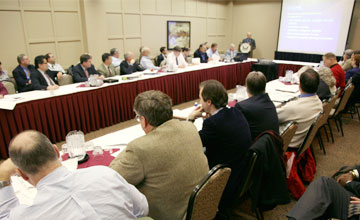 Public Meeting Schedule: Meeting Details
[
New Search
]
---
Purpose

* Meeting Canceled *

The U.S. Nuclear Regulatory Commission (NRC) will hold an open house to discuss the NRC's assessment of safety performance at the Watts Bar Nuclear Plant Units 1 and 2 for 2019.

Meeting Feedback

Meeting Dates and Times

04/09/20
5:00PM - 6:00PM



Meeting Location

Spring City Municipal Buildings
229 Front Street
Spring City TN


Contact

Thomas Stephen
404-997-4704



Participation Level

Category 3

NRC Participants

Thomas Stephen, Act. Branch Chief, Region II
Wesely Deschaine, SRI, Region II
Jeffrey Hamman, RI, Region II
Ryan Taylor, Sr. Project Engineer, Region II


External Participants

Tennessee Valley Authority


Docket Numbers - Facility Names

05000390 - Watts Bar 1
05000391 - Watts Bar 2


Related Documents

ML20069K886 - 04/09/2020 Watts Bar Nuclear Plant Units 1 and 2 Annual Assessment Meeting



Comments

The public is invited to participate in this meeting by providing comments and asking questions throughout the meeting. The annual assessment letter is accessible from the publicly available records (PARS) component of the NRC's document system (ADAMS) (Accession No. ML20063M652).