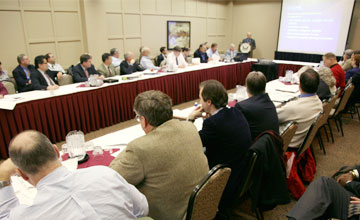 Public Meeting Schedule: Meeting Details
[
New Search
]
---
Purpose

The purpose of this meeting is for Northern States Power Company to provide information on a planned license amendment request for MNGP related to TSTF-505 "Risk Informed Completion Time."

Meeting Feedback

Meeting Dates and Times

02/27/20
2:00PM - 3:00PM



Meeting Location

Teleconference


Contact

Robert Kuntz
(301) 415-3733



Participation Level

Category 1

NRC Participants

Robert Kuntz, Office of Nuclear Reactor Regulation


External Participants

Peter Ghodes, Northern States Power Company


Docket Numbers - Facility Names

05000263 - Monticello


Related Documents

ML20042E493 - 02/27/2020 Teleconference to Discuss Planned License Amendment Request for Monticello Nuclear Generating Plant (MNGP).

ML20055F812 - Monticello - Pre-Application Meeting - License Amendment Request - Revise Technical Specifications to Adopt Risk Informed Completion Times TSTF-505, Revision 2, "Provide Risk-Informed Extended Completion Times - RITSF Initiative 4b"



Comments

The public can participate in person or via toll-free audio teleconference. Please contact the NRC meeting contact listed above by February 26, 2020, for teleconference details or call the NRC's toll-free number, 1-800-368-5642, and ask to be connected to a meeting contact.