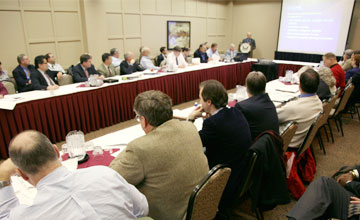 Public Meeting Schedule: Meeting Details
[
New Search
]
---
Purpose

The purpose of this meeting is to discuss a future program and its use of an alternative fuel cladding strain limit and to review PWROG's presentation of hydrogen-based strain limits for currently used cladding products. This program proposes to develop a Topical Report (TR) which will be submitted to the NRC for review and approval.

Meeting Feedback

Meeting Dates and Times

02/18/20
9:30AM - 12:30PM



Meeting Location

NRC One White Flint North
11555 Rockville Pike
Rockville MD


Contact

Leslie Fields
301-415-1186



Participation Level

Partially Closed

NRC Participants

Leslie Fields, Office of Nuclear Reactor Regulation
Paul Clifford, Office of Nuclear Reactor Regulation
David Beaulieu , Office of Nuclear Reactor Regulation
Philip McKenna, Office of Nuclear Reactor Regulation


External Participants

Brian Mount, Dominion Energy
Chad Holderbaum, Pressurized Water Reactor Owners Group
Gary Miller, Dominion Energy
Jim Andrachek, Westinghouse
Scott Thomas, Duke Energy
Tim Crede, Westinghouse


Docket Numbers - Facility Names

Related Documents

ML20034E001 - 02/18/2020 FORTHCOMING MEETING BETWEEN THE U.S. NUCLEAR REGULATORY COMMISSION AND THE PWR OWNERS GROUP REGARDING PWROG PROGRAM, PA-ASC-1671 R0, HYDROGEN-BASED TRANSIENT CLADDING STRAIN LIMIT"



Comments

To participate in this meeting, please email leslie.fields@nrc.gov by Friday, Feb 14, 2020.