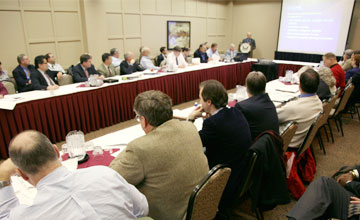 Public Meeting Schedule: Meeting Details
[
New Search
]
---
Purpose

The purpose of this meeting is for NRC staff and industry to discuss steam generator issues.

Meeting Feedback

Meeting Dates and Times

02/24/20
8:00AM - 2:00PM



Meeting Location

NRC Two White Flint North
11545 Rockville Pike
06D02
Rockville MD


Contact

Alan Huynh
301-415-1137

Paul Klein
301-415-4030

Helen Cothron
null



Participation Level

Category 2

NRC Participants

A. Huynh, et al., Office of Nuclear Reactor Regulation


External Participants

H. Cothron, et al., Electric Power Research Institute (EPRI)
L. Friant, et al., Exelon


Docket Numbers - Facility Names

Related Documents

ML20042C703 - 02/24/2020 Steam Generator Task Force Meeting

ML20052D943 - Final Slides SGTF NRC February 24, 2020 Meeting

ML20052D944 - TS 5.5.9 Example - Program and Manuals Markup

ML20052D945 - TS 5.6.7 Example - Reporting Requirements - Markup



Comments

Portions of this meeting during which proprietary information is discussed will be closed to the public. The agenda may be changed due to information and/or personnel availability. Members of the public can participate via a toll-free conference. Please email the meeting contact(s) to obtain the telephone number and access code.