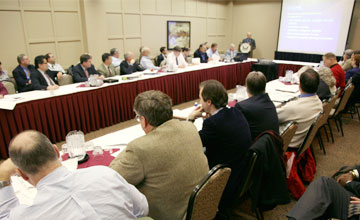 Public Meeting Schedule: Meeting Details
[
New Search
]
---
Purpose

The purpose of this meeting is to discuss with the nuclear industry and other stakeholders the initiatives within the industry and NRC related to the development and licensing of non-light water reactors.

Meeting Feedback

Meeting Dates and Times

* Date/Time Change *

12/12/19
9:00AM - 3:30PM



Meeting Location

NRC One White Flint North
11555 Rockville Pike
Commissioners Hearing Room
Rockville MD


Webinar

Webinar Link:https://skype.nrc.gov/meet/lucieann.vechioli/G664Y6Z6
Webinar Meeting Number:839149
Webinar Password:N/A


Contact

Lucieann Vechioli
301-415-6035



Participation Level

Category 2

NRC Participants

External Participants

Docket Numbers - Facility Names

Related Documents

ML19325C089 - Draft Outline for Licensing Modernization Project Advanced Reactor License Application.

ML19331A562 - 12/12/2019 Meeting with Nuclear Industry Groups and other Stakeholders on Possible Regulatory Process Improvements for Advanced Reactors Designs, including the Physical Security Proposed Rulemaking.



Teleconference

Bridge Number: 8887903549
Passcode: 9537029

Comments

One of the topics of discussion will be the Physical Security Proposed Rule for Advanced Reactor in order to provide an opportunity to exchange information on the proposed rule on the alternative physical security for advanced reactors. Feedback obtained at the meeting will be considered during the development of the proposed rule.