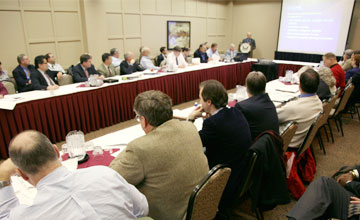 Public Meeting Schedule: Meeting Details
[
New Search
]
---
Purpose

To discuss the agency's activities in accordance to Section 108 of NEIMA to collect information on best practices and lessons learned for establishment and operation of local community advisory boards (CABs) associated with power reactor decommissioning activities.

Meeting Feedback

Meeting Dates and Times

11/19/19
1:00PM - 3:00PM



Webinar

Webinar Link:https://usnrc.webex.com/usnrc/onstage/g.php?MTID=e32e62171908a1c438c9475519e182d6b
Webinar Meeting Number:902 652 704
Webinar Password:wFWJM48D


Contact

Kim Conway
301-415-1335

Zahira Cruz
301-415-3808



Participation Level

Category 3

NRC Participants

External Participants

Docket Numbers - Facility Names

Related Documents

ML19318D979 - 11/19/2019 Webinar Nuclear Energy Innovation and Modernization Act (NEIMA) Section 108



Teleconference

Bridge Number:
Passcode:

Comments

Slides to follow. The staff issued a Federal Register (FR) notice on September 27, 2019 (84 FR 51189) requesting stakeholder input and public comments on best practices for the establishment and operation of CABs. Comments may be submitted by December 6, 2019. The meeting will be transcribed and made publicly available on the NEIMA Section 108 webpage, https://www.nrc.gov/waste/decommissioning/neima-section-108.html. The bridgeline will be listen-only during the NRC's presentation and an operator will be available to facilitate comments and questions during the designated portion of the meeting. Comments may be submitted through the webinar interface or by indicating the desire to ask a question to the bridgeline operator. This meeting may close early based on participation.