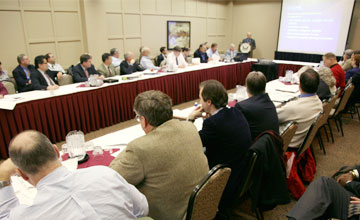 Public Meeting Schedule: Meeting Details
[
New Search
]
---
Purpose

To gather information needed to determine the viability of developing a generic environmental impact statement for advanced nuclear reactors.

Meeting Feedback

Meeting Dates and Times

11/20/19
1:00PM - 3:30PM

11/15/19
1:00PM - 3:30PM



Meeting Location

NRC One White Flint North
11555 Rockville Pike
Commissioners' Hearing Room
Rockville MD


Webinar

Webinar Link:https://video.nrc.gov
Webinar Meeting Number:NA
Webinar Password:NA


Contact

Jack Cushing
301-415-1424

Mallecia Sutton
301-415-0673



Participation Level

Category 2

NRC Participants

Kenneth Erwin, et.al, Office of Nuclear Material Safety and Safeguards


External Participants

Public


Docket Numbers - Facility Names

Related Documents

ML19304B011 - 11/15/2019 MEETING TO DISCUSS THE ENVIRONMENTAL INFORMATION NEEDED TO DEVELOP A GENERIC ENVIRONMENTAL IMPACT STATEMENT FOR ADVANCED NUCLEAR REACTORS



Teleconference

Bridge Number: 8886229844
Passcode: 75444

Comments

Stakeholder information to be considered in the development of a Generic Environmental Impact Statement can be submitted to AdvancedReactors-GEIS.resource@nrc.gov. Comments received before December 31, 2019 will be considered in the exploratory process. Comments received after December 31, 2019 will be considered if time allows.