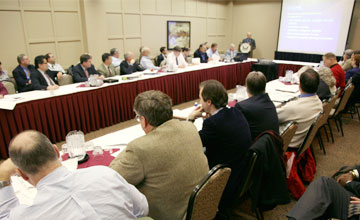 Public Meeting Schedule: Meeting Details
[
New Search
]
---
Purpose

The purpose of this meeting is to: 1) discuss the issues and amendment requests contained in PRM-72-7 (Petition to Amend 10 CFR Part 72, "Licensing Requirements for the Independent Storage of Spent Nuclear Fuel, High-Level Radioactive Waste, and Reactor Related Greater-Than-Class C Waste"); 2) ascertain participants' current level of interest in the issues in PRM-72-7; and 3) obtain input from the participants on rulemaking and non-rulemaking alternatives, such as regulatory guidance that would address both the petition issues and additional staff-identified changes in 10 CFR Part 72. This is a Category 3 public meeting as explained in the Commission's Policy Statement on "Enhancing Public Participation in NRC Meetings" (67 FR 36920), May 28, 2002. The policy statement applies to this meeting, it may be found on the NRC website, https://www.nrc.gov/reading-rm/doc-collections/commission/policy/67fr36920.html, and it contains information regarding visitors and security.

Meeting Feedback

Meeting Dates and Times

11/18/19
9:00AM - 3:00PM



Meeting Location

NRC Three White Flint North
11601 Landsdown Street
1C03 & 1C05
Rockville MD


Contact

Latif Hamdan
301-415-6639



Participation Level

Category 3

NRC Participants

Office of Nuclear Material Safety and Safeguards


External Participants

Certificate holders
Industry Representatives
Nuclear Energy Institute (NEI)
Public


Docket Numbers - Facility Names

Related Documents

ML19312A095 - Federal Register Notice: PRM-72-7: Spent Fuel Cask Certificate of Compliance Format and Content

ML19318C163 - 11/18/2019 Public Meeting to Discuss the Issues Contained in PRM-72-7 and Additional Staff-Identified Changes to 10 CFR Part 72



Teleconference

Bridge Number: 8006193383
Passcode: 3216802

Comments

The NRC staff will lead the discussions about the issues contained in PRM-72-7 and additional staff-identified changes. The NEI will introduce the white paper, "Defining Spent Fuel Performance Margins." The staff will invite the external participants to provide input on the issues, changes, rulemaking, and non-rulemaking alternatives. External participants will have an opportunity to ask questions and provide feedback. After the meeting the NRC staff will consider the input and feedback in the rulemaking process. All participants should register for the meeting in advance by sending email messages with their names and affiliation to Latif Hamdan (lsh@nrc.gov) before the meeting date. A Skype link will be emailed to those who want to join the meeting via Skype.