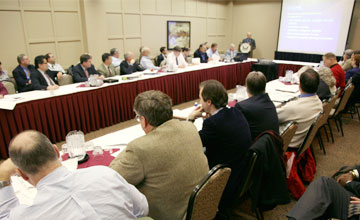 Public Meeting Schedule: Meeting Details
[
New Search
]
---
Purpose

To conduct a public meeting for the U.S. Nuclear Regulatory Commission's (NRC) Environmental Assessment (EA) for Westinghouse Electric Company, LLC's license renewal application to continue operation at its Columbia Fuel Fabrication Facility for an additional 40 years in Richland County, South Carolina. At the meeting, the NRC will receive comments from the public on the draft EA.

Meeting Feedback

Meeting Dates and Times

11/14/19
5:30PM - 8:00PM



Meeting Location

Medallion Conference Center
7309 Garners Ferry Road
Columbia SC


Contact

Jessie Quintero
301-415-7476



Participation Level

Category 3

NRC Participants

NRC Staff


External Participants

Public


Docket Numbers - Facility Names

07001151 - WESTINGHOUSE ELECTRIC COMPANY LLC


Related Documents

ML19296A024 - 11/14/2019 PUBLIC MEETING FOR THE DRAFT ENVIRONMENTAL ASSESSMENT FOR WESTINGHOUSES COLUMBIA FUEL FABRICATION FACILITY LOCATED IN RICHLAND COUNTY, SOUTH CAROLINA

ML19228A278 - Draft for Comment - Environmental Assessment for the Renewal of SNM-1107 Columbia Fuel Fabrication Facility in Richland County, South Carolina.

ML19284B643 - FRN - WEC Draft Revised EA and FONSI



Comments

Interested members of the public will have approximately 3 to 5 minutes to speak depending on the number of persons who wish to participate. Members of the public may register in advance to present oral comments by contacting Ms. Antoinette Walker-Smith at (301) 415-6957, or via email to Antoinette.Walker-Smith@nrc.gov.