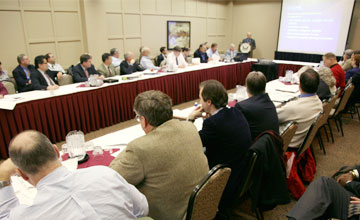 Public Meeting Schedule: Meeting Details
[
New Search
]
---
Purpose

The purpose of this meeting is to seek stakeholder feedback on NRC's draft burnup and enrichment extension project plan. The plan outlines the staff's strategy to prepare for licensing higher burnup and increased enrichment limits that the industry is pursuing along with the deployment of accident tolerant fuel (ATF).

Meeting Feedback

Meeting Dates and Times

09/12/19
1:00PM - 4:00PM



Meeting Location

NRC One White Flint North
11555 Rockville Pike
Commissioner's Hearing Room
Rockville MD


Contact

Andrew Proffitt
301-415-1418



Participation Level

Category 2

NRC Participants

Office of Nuclear Reactor Regulation
Office of Nuclear Material Safety and Safeguards
Office of Nuclear Regulatory Research


External Participants

Docket Numbers - Facility Names

Related Documents

ML19247C817 - 09/12/2019 Public Meeting on NRC's Draft Burnup and Enrichment Extension Project Plan

ML19242E192 - Fuel Burnup and Enrichment Extension Preparation Strategy.

ML19254D322 - NEI Burnup Enrichment Public Meeting Slides

ML19254D656 - 09/12/2019 US NRC High Burnup and Increased Enrichment Project Plan - Public Meeting Slides



Teleconference

Bridge Number: 8886589011
Passcode: 2326913

Comments

Please review the plan prior to the meeting (ADAMS ML19242E192) to enable productive discussion. If you would like to make a formal presentation at the meeting, please contact Andrew Proffitt at Andrew.Proffitt@nrc.gov by 5:00pm on Monday, September 9th to express interest.