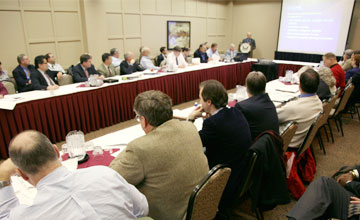 Public Meeting Schedule: Meeting Details
[
New Search
]
---
Purpose

The purpose of this meeting is to discuss TVA's plans and schedule related to the planned submittal of a license amendment request for the Watts Bar Nuclear Plant, Units 1 and 2. The submittal will propose to delete Surveillance Requirement 3.8.1.22 and correct an issue in accordance with a requirement in Title 10 of the Code of Federal Regulations Section 50.90.

Meeting Feedback

Meeting Dates and Times

09/12/19
9:30AM - 11:30AM



Meeting Location

NRC One White Flint North
11555 Rockville Pike
08B04
Rockville MD


Contact

Michael Wentzel
301-415-6459

Natreon J. Jordan
301-415-7410



Participation Level

Category 1

NRC Participants

Natreon Jordan, Office of Nuclear Reactor Regulation


External Participants

Tennessee Valley Authority


Docket Numbers - Facility Names

05000390 - Watts Bar 1
05000391 - Watts Bar 2


Related Documents

ML19241A553 - 09/12/2019 Pre-Application Meeting with Tennessee Valley Authority (TVA) to Discuss a Future Watts Bar Nuclear Plant, Units 1 and 2, License Amendment Request

ML19252A053 - TVA Presentation Slides: Watts Bar Nuclear Plant Pre-Submittal Meeting for License Amendment Request Re: Revised Offsite Electrical Power Sources - September 12, 2019



Comments

The public can participate in person or via toll-free audio teleconference. Please contact an NRC meeting contact listed above by 12:00 p.m. on September 11, 2019, for teleconference details, or call the NRC's toll-free number, 1-800-368-5642, and ask to be connected to a meeting contact.