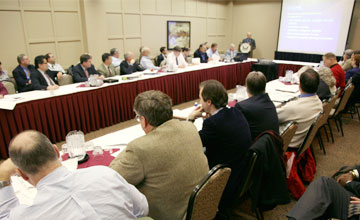 Public Meeting Schedule: Meeting Details
[
New Search
]
---
Purpose

Public teleconference meeting to discuss NuScale licensing approach, process, contents, and schedule for submittal of an Standard Design Approval (SDA) that incorporates design changes from the NuScale SMR Design, and obtain NRC staff feedback on planned approach.

Meeting Feedback

Meeting Dates and Times

* Date/Time Change *

09/25/19
1:00PM - 4:00PM



Meeting Location

Teleconference


Contact

Gregory Cranston
301-415-0546



Participation Level

Category 1

NRC Participants

External Participants

Docket Numbers - Facility Names

05200048 - NUSCALE POWER REACTOR


Related Documents

ML19267A059 - 09/25/2019 Public Meeting between NRC and NuScale - Discuss Future Standard Design Approval (SDA) Application Submittal



Teleconference

Bridge Number: 8779501785
Passcode: 4312028

Comments

Meeting slides can be found under ADAMS Accession No. ML19254A792.