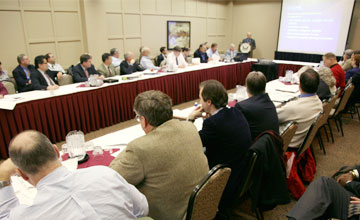 Public Meeting Schedule: Meeting Details
[
New Search
]
---
Purpose

Representatives from the NRC and the U.S. Department of Energy will discuss the current status and future actions at the Homestake Mining Company of California, Grants Reclamation Project Site former uranium mill and maintenance and monitoring activities at the former Bluewater uranium mill. Representatives from the New Mexico Environment Department and the U.S. Environmental Protection Agency will participate in a question-and-answer session following the presentations.

Meeting Feedback

Meeting Dates and Times

09/18/19
6:30PM - 9:00PM



Meeting Location

Cibola County Building
515 West High Street
Convention Room
Grants NM


Contact

Ron Linton
301-415-7777

Bill vonTill
301-415-0598



Participation Level

Category 3

NRC Participants

Ron Linton, Office of Nuclear Material Safety and Safeguards
Bill vonTill, Office of Nuclear Material Safety and Safeguards
Bo Pham, Office of Nuclear Material Safety and Safeguards
George Alexander, Office of Nuclear Material Safety and Safeguards
Rob Evans, Region IV


External Participants

Bernadette Tsosie, US Department of Energy
Kurt Vollbrecht, State of New Mexico
Mark Purcell, US Environmental Protection Agency


Docket Numbers - Facility Names

04008902 - ATLANTIC RICHFIELD CO.
04008903 - HOMESTAKE MINING CO.


Related Documents

ML19252B077 - 09/18/2019 U. S. Nuclear Regulatory Commission Public Meeting to Discuss the Current Status and Future Actions at the Homestake Uranium Mill and the Maintenance and Monitoring Activities at the Bluewater Uranium Mill in Cibola County New Mexico



Comments

The time of the meeting is local to the jurisdiction where the meeting is being held. The NRC provides reasonable accommodation to individuals with disabilities where appropriate. If reasonable accommodation is needed to participate in this meeting, or if a meeting notice, transcript, or other information from this meeting is needed in another format (e.g., Braille, large print), please notify the NRC meeting contact. Determinations on requests for reasonable accommodation will be made on a case-by-case basis.