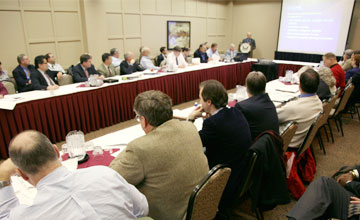 Public Meeting Schedule: Meeting Details
[
New Search
]
---
Purpose

The purpose of this pre-submittal meeting is to hear Southern Nuclear Company's (SNC's) plan for a Vogtle Alternative related to the Steam Generator (SG) Main Steam (MS) and Feedwater (FW) nozzle examinations. Specifically, the alternative proposes to change the inspection interval from 10 years to 30 years.

Meeting Feedback

Meeting Dates and Times

08/29/19
10:00AM - 11:00AM



Meeting Location

NRC One White Flint North
11555 Rockville Pike
O-9B6
Rockville MD


Contact

John G. Lamb
301-415-3100



Participation Level

Category 1

NRC Participants

John G. Lamb, NRC Staff


External Participants

Ken Lowery, Southern Nuclear Company
SNC


Docket Numbers - Facility Names

05000424 - Vogtle 1
05000425 - Vogtle 2


Related Documents

ML19214A074 - 08/29/2019 Pre-Submittal Meeting - Vogtle Units 1 and 2 Proposed Alternative Relief Request



Comments

Contact John G. Lamb for bridge line.