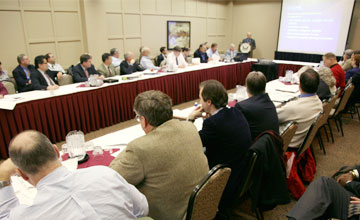 Public Meeting Schedule: Meeting Details
[
New Search
]
---
Purpose

To discuss the nuclear power plant decommissioning process and identify best practices and lessons learned for establishment and operation of local community advisory boards (CABs) associated with power reactor decommissioning activities.

Meeting Feedback

Meeting Dates and Times

* Date/Time Change *

08/08/19
1:00PM - 3:00PM



Webinar

Webinar Link:https://attendee.gotowebinar.com/register/2089180245165145868
Webinar Meeting Number:786-479-651
Webinar Password:N/A


Contact

Zahira Cruz
(301) 415-3808

Marlayna Doell
(301) 415-3178



Participation Level

Category 3

NRC Participants

Office of Nuclear Material Safety and Safeguards


External Participants

Docket Numbers - Facility Names

Related Documents

ML19218A262 - NEIMA Section 108 WEBINAR Slides - August 8 2019

ML19218A288 - 08/08/2019 Webinar Nuclear Energy Innovation and Modernization Act (NEIMA) Section 108

ML19256A017 - Summary Of The August 8, 2019, Public Meeting Webinar Regarding The Establishment And Operation Of Community Advisory Boards.



Teleconference

Bridge Number: (888) 452-8947
Passcode: 4854601

Comments

Slides attached to meeting notice. Bridgeline will be listen only during the NRC's presentation and an operator will be available to facilitate questions during the question and answer portion of the meeting. Questions will be submitted through the webinar interface or by indicating the desire to ask a question to the bridgeline operator. This meeting may close early based on participation.