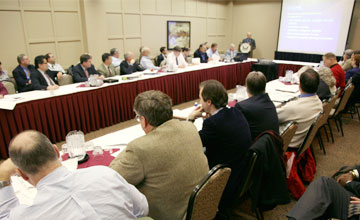 Public Meeting Schedule: Meeting Details
[
New Search
]
---
Purpose

The purpose of this meeting between Tennessee Valley Authority (TVA) and the U.S. Nuclear Regulatory Commission (NRC) staff is to discuss TVA's plans and schedule related to the proposed submittal of a license amendment request for the Watts Bar Nuclear Plant, Unit 2. The proposed amendment will request approval to implement a measurement uncertainty recapture power uprate.

Meeting Feedback

Meeting Dates and Times

07/18/19
9:30AM - 11:30AM



Meeting Location

NRC One White Flint North
11555 Rockville Pike
O8-B04
Rockville MD


Contact

Natreon J. Jordan
301-415-7410

Farideh Saba
301-415-1447



Participation Level

Category 1

NRC Participants

Natreon Jordan, Office of Nuclear Reactor Regulation
Farideh Saba, Office of Nuclear Reactor Regulation


External Participants

Russell Wells, Tennessee Valley Authority


Docket Numbers - Facility Names

05000391 - Watts Bar 2


Related Documents

ML19191A253 - 07/18/2019 Public Meeting with Tennessee Valley Authority to Discuss a Future Proposed Watts Bar Nuclear Plant, Unit 2, License Amendment Request (EPID L-2019-LRM-0037)

ML19197A093 - Presentation Slides - Watts Bar Nuclear Plant (WBN) Unit 2, Pre-Submittal Meeting for License Amendment Request Measurement Uncertainty Recapture (MUR) Power Update



Comments

Interested members of the public can participate in this meeting via a toll-free teleconference. For details please contact the NRC meeting contacts listed above.