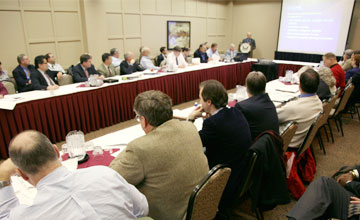 Public Meeting Schedule: Meeting Details
[
New Search
]
---
Purpose

To conduct an annual information exchange meeting between NRC and INPO.

Meeting Feedback

Meeting Dates and Times

07/17/19
9:00AM - 10:00AM



Meeting Location

Teleconference


Contact

Araceli Billoch
301-415-3302

Jessie Quichocho
301-415-0209



Participation Level

Category 1

NRC Participants

Office of Executive Director for Operations
Office of Nuclear Reactor Regulation
Office of Nuclear Security and Incident Response


External Participants

Institute of Nuclear Power Operations


Docket Numbers - Facility Names

Related Documents

ML19172A125 - 07/17/2019 Annual Institute of Nuclear Power Operations (INPO)/U.S. Nuclear Regulatory Commission (NRC) Senior Executive Meeting



Comments

Interested members of the public can participate in this meeting via a toll-free teleconference. For details, please call the NRC meeting contacts.