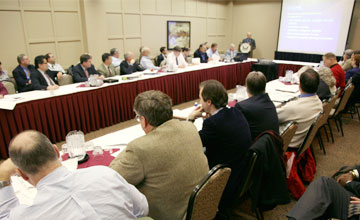 Public Meeting Schedule: Meeting Details
[
New Search
]
---
Purpose

To discuss topics associated with the NRC's plans to transition to from Sensitive Unclassified Non-Safeguards Information (SUNSI) to Controlled Unclassified Information (CUI)

Meeting Feedback

Meeting Dates and Times

* Date/Time Change *

07/25/19
1:15PM - 4:00PM



Meeting Location

NRC One White Flint North
11555 Rockville Pike
Commissioners' Conference Room
Rockville MD


Webinar

Contact

Tanya Mensah
(301) 415-3610



Participation Level

Category 3

NRC Participants

NRC Staff


External Participants

Docket Numbers - Facility Names

Related Documents

ML19192A238 - July 25, 2019 CUI Public Meeting Agenda

ML19192A239 - July 25, 2019, CUI Public Meeting Presentation Slides.

ML18065B107 - SECY-18-0035: Update on Development of the Controlled Unclassified Information Program

ML18234A047 - COMSECY-18-0022: Controlled Unclassified Information Rulemaking



Teleconference

Bridge Number: (888) 677-0854
Passcode: 5086374

Comments

For in-person attendees, please arrive at the NRC's main entry at 11555 Rockville Pike by 12:45 p.m. to allow enough time to go through security. Interested members of the public not able to travel to NRC Headquarters may participate by dialing the telephone number and entering the passcode followed by the #sign. This meeting will also be webcast at the NRC Webcast Portal. Visit https://video.nrc.gov/ to view the webcast for the "CUI Public Meeting."