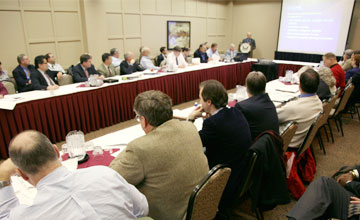 Public Meeting Schedule: Meeting Details
[
New Search
]
---
Purpose

Provide the public an opportunity to discuss NRC's regulatory activities associated with the operation of the BWXT's Nuclear Fuel Services (NFS) facility located in Erwin, Tenn. The public is invited to provide information, views, and concerns at this meeting and will have the opportunity to communicate with NRC staff involved in licensing and inspection activities at NFS.

Meeting Feedback

Meeting Dates and Times

07/16/19
7:00PM - 8:30PM



Meeting Location

Erwin Town Hall
211 N Main Avenue
Erwin TN


Contact

Joel Rivera, RII/DFFI
404-997-4825



Participation Level

Category 3

NRC Participants

Joel Rivera, Region II
Larry Harris, Region II
Roger Hannah, Region II
Kevin Ramsey, Office of Nuclear Material Safety and Safeguards


External Participants

Docket Numbers - Facility Names

07000143 - NUCLEAR FUEL SERVICES, INC.


Related Documents

ML19149A554 - 5/16/19 Public Meeting Summary-Licensee Performance Review of Nuclear Fuel Services Docket No.70-143.

ML19165A058 - 07/16/2019 NOTICE OF FORTHCOMING MEETING FOR COMMUNITY OUTREACH RELATED TO BWXT-NUCLEAR FUEL SERVICES FACILITY

ML19060A210 - Nuclear Fuel Services, Inc., Licensee Performance Review of Licensed Activities (Nuclear Regulatory Commission Inspection Report 70-143/2019-001).



Comments

Members of the public may enter the meeting room beginning at 6 p.m. Prior to 6 p.m., the room will be closed to all except NRC staff and those performing services under contract to the NRC in support of this meeting. The meeting will begin at 7:00 p.m. with a brief introduction followed by a period for comments and questions. Each speaker will be limited to five minutes to accommodate as many speakers as possible. If time allows, speakers may be allowed additional time after others have had an opportunity to speak. The meeting will be facilitated by Roger Hannah, Senior Public Affairs Officer, NRC Region II.