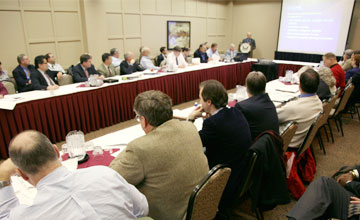 Public Meeting Schedule: Meeting Details
[
New Search
]
---
Purpose

For GNF to provide the NRC staff with an update on aspects of ARMOR fuel technology testing and licensing plans and other items as reflected in the agenda.

Meeting Feedback

Meeting Dates and Times

06/05/19
2:00PM - 5:00PM



Meeting Location

NRC One White Flint North
11555 Rockville Pike
OWFN-10B04
Rockville MD


Contact

Joe Golla
301-415-1002



Participation Level

Category 2

NRC Participants

NRC Staff


External Participants

GE Hitachi Nuclear Energy


Docket Numbers - Facility Names

Related Documents

ML19134A030 - 06/05/2019 Update on Global Nuclear Fuel (GNF) Accident Tolerant Fuel (ATF) Licensing Plans



Teleconference

Bridge Number: 8886067810
Passcode: 67476

Comments

This meeting will be open to the public for approximately the first half hour and the last fifteen minutes. Between these public portions the meeting will be closed to public participation because GNF will be discussing proprietary information.