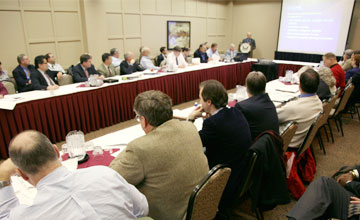 Public Meeting Schedule: Meeting Details
[
New Search
]
---
Purpose

To exchange technical information related to activities of materials programs (Electric Power Research Institute (EPRI) Materials Reliability Program (MRP), EPRI BWR Vessels and Internals Project (BWRVIP), PWR Owners Group Materials Committee (MSC), and EPRI Welding Repair and Technology Program (WRTC))

Meeting Feedback

Meeting Dates and Times

05/22/19
8:30AM - 5:30PM

05/21/19
8:30AM - 5:30PM



Meeting Location

NRC One White Flint North
11555 Rockville Pike
TWFN Auditorium
Rockville MD


Webinar

Webinar Link:https://attendee.gotowebinar.com/register/404833982842474499
Webinar Meeting Number:262-103-003
Webinar Password:No PW


Contact

Ali Rezai
301-415-1328

Brian Harris
301-415-2277

Allen Hiser
301-415-5650



Participation Level

Category 2

NRC Participants

Office of Nuclear Reactor Regulation
Office of Nuclear Regulatory Research


External Participants

Industry Representatives


Docket Numbers - Facility Names

Related Documents

ML19065A116 - Forthcoming Industry / U.S. Nuclear Regulatory Commission Materials Programs Technical Information Exchange Public Meeting

ML19123A274 - Preliminary Agenda Materials Programs Meeting May 21-22 2019.



Teleconference

Bridge Number: 8889215485
Passcode: 73423

Comments

The NRC will also host an "International Workshop on Age-Related Degradation of Reactor Vessel and Internals" on May 23-24, 2019. Refer to separate Meeting Notice for this workshop (ML19065A118).