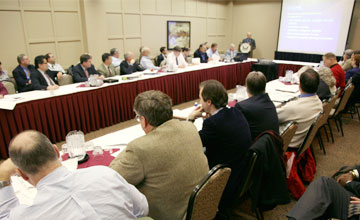 Public Meeting Schedule: Meeting Details
[
New Search
]
---
Purpose

Westinghouse will provide the NRC staff with an overview of the their responses to the draft RAIs regarding the Environmental Protection program.

Meeting Feedback

Meeting Dates and Times

* Date/Time Change *

03/27/19
1:00PM - 3:30PM



Meeting Location

NRC One White Flint North
11555 Rockville Pike
HQ-OWFN-12B04-25P
Rockville MD


Contact

Matt Bartlett
301-415-7154



Participation Level

Category 1

NRC Participants

Office of Nuclear Material Safety and Safeguards


External Participants

Westinghouse Columbia Fuel Fabrication Facility


Docket Numbers - Facility Names

07001151 - WESTINGHOUSE ELECTRIC COMPANY LLC


Related Documents

ML18308A008 - Westinghouse License Renewal - RAIs for the Reopened Environmental Review.

ML19077A099 - 03/27/2019 Meeting between NRC and Westinghouse Columbia Fuel Fabrication Facility Regarding Request for Additional Information (RAI) on the Proposed License Renewal



Teleconference

Bridge Number: 8885303072
Passcode: 36743

Comments

The NRC's RAIs are available through the Agencywide Documents Access and Management System (ADAMS), see accession number ML18308A008.