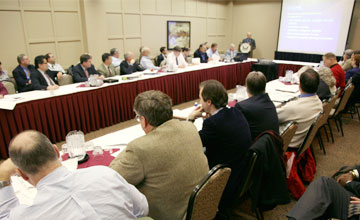 Public Meeting Schedule: Meeting Details
[
New Search
]
---
Purpose

The purpose of this predecisional enforcement conference is to discuss two apparent violations of U.S. Nuclear Regulatory Commission (NRC) requirements. The apparent violations are related to an incident that involved a loaded spent fuel canister that was misaligned when being lowered into a storage vault and the important to safety lifting and rigging equipment was no longer supporting the canister weight. These apparent violations are discussed in NRC Special Inspection Report 050-00206/2018-005, 050-00361/2018-005, 050-00362/2018-005, 072-00041/2018-001, dated November 28, 2018 (ADAMS Accession ML18332A357).

Meeting Feedback

Meeting Dates and Times

01/24/19
2:00PM - 5:00PM



Webinar

Webinar Link:https://attendee.gotowebinar.com/register/2491132005260879875
Webinar Meeting Number:NA
Webinar Password:NA


Contact

Eric Simpson, NRC RIV
817-200-1553



Participation Level

Category 1

NRC Participants

Scott Morris, Regional Administrator, Region IV
Linda L. Howell, Deputy Director, DNMS, Region IV
Janine F. Katanic, PhD, CHP, Chief, FCDB, Region IV
Eric Simpson, CHP, Health Physicist, FCDB, Region IV
G. Michael Vasquez, Team Leader, ACES, Region IV
John Kramer, Senior Enforcement Specialist, Region IV
David Cylkowski, Regional Counsel, Region IV


External Participants

Al Bates, Manager, Regulatory Affairs and Nuclear Oversight
Chuck Bullard, Engineering, Holtec International
Doug Bauder, VP Decommissioning and Chief Nuclear Officer
Jerry Stephenson, Manager, ISFSI Engineering
Jim Peattie, Mgr, CAP, and GM of Decommissioning Oversight
Lou Bosch, Plant Manager
Mark Morgan, Regulatory Affairs
Stefan Anton, VP of Engineering, Holtec International


Docket Numbers - Facility Names

05000206 - San Onofre 1
05000361 - San Onofre 2
05000362 - San Onofre 3
07200041 - SONGS 1


Related Documents

ML19011A163 - 01/24/2019 PREDECISIONAL ENFORCEMENT CONFERENCE WITH SOUTHERN CALIFORNIA EDISON COMPANY



Comments

Interested members of the public should register for the webinar via the internet address provided above. After registering, a confirmation email will be sent with details for joining the webinar. During the meeting, participants will be able to see and hear the meeting on their computer or mobile device. There is also an option to listen via phone bridge, but participants must register for the webinar to obtain the call-in number. Public participation on the phone bridge will be supported in listen only mode. Additional information regarding the San Onofre Nuclear Generating Station Special Inspection can be found at: https://www.nrc.gov/reactors/operating/ops-experience/songs-spec-insp-activities-cask-loading-misalignment.html.