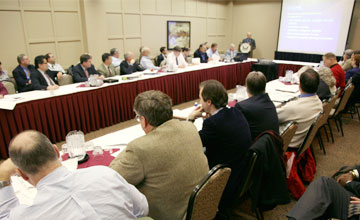 Public Meeting Schedule: Meeting Details
[
New Search
]
---
Purpose

An open Pre-decisional Enforcement Conference (PEC) will be held to discuss apparent violations involving the design of spent fuel storage casks.

Meeting Feedback

Meeting Dates and Times

01/09/19
1:00PM - 5:00PM



Meeting Location

NRC One White Flint North
11555 Rockville Pike
Commission Hearing Room
Rockville MD


Contact

Tomeka Terry
(301) 415-1488



Participation Level

Category 1

NRC Participants

Michael Layton, NRC Staff
Christopher Regan, NRC Staff
Patricia SIlva, NRC Staff
Earl Love, NRC Staff
Marlone Davis, NRC Staff
Michele Burgess, NRC Staff


External Participants

Holtec International


Docket Numbers - Facility Names

07201014 - HOLTEC INTERNATIONAL


Related Documents

ML19009A206 - 01/09/2019 Notice of Pre-decisional Enforcement Conference (PEC) Between U.S. Nuclear Regulatory Commission (NRC) and Holtec International (EA-18-151)

ML18340A032 - Holtec International, Letter Regarding NRC Inspection Report 07201014/2018201 Requesting a Pre-decisional Enforcement Conference.

ML18306A853 - Holtec International; U.S Nuclear Regulatory Commission Inspection Report 07201014/2018201.

ML19008A369 - Presentation Slides: Holtec's Input to the PEC Proceedings on NRC's Inspection Report No. 07201014/2018-201



Comments

Interested members of the public can participate in this meeting via a toll-free audio teleconference. Please call or e-mail the meeting contact listed above by January 8, 2019, 3:00PM (Eastern Time) to get the telephone number and passcode. Also, the members of the public will be able to view this public meeting through NRC Meeting Webcasts.